Ce à venir…. this to be created… Rêves nomades / Nomadic Dreams
a continuing exploration of the Indigo Griots project
      by:  Valérie d. Walker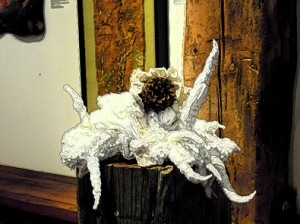 Après son exploration de l'immensité avec son 2500 pi2 labyrinthe d'installation Indigo Griots – Labyrinthe dans le cadre d'enAvril de l'année dernière, cette année, Valérie étudie les minutiae imprégnés dans les moments de création et l'examen des possibilités ..
Entités …… tenant sur la prise accidentelle…caché dans des espaces liminaires nous sauter par-dessus, sur le chemin de quelque part d'autre…. ce qui se passe si nous nous arrêtons et prenons un long regard sur l'autre? Entités arrêter dans m'atelier, s'arrêtant un instant ou deux … elles me toucher… sur leur chemin vers un autre Ètat  d'Ètre….
After her exploration of immensity with her 2,500ft2 indigo labyrinthe installation Indigo Griots – Labyrinthe in last year's enAvril,  this year Valérie is examining  the minutiae imbued in moments of creation & consideration of possibilities…
Entities… … holding onto the incidental,  hidden in liminal spaces we skip over,  on the way to someplace else …..  what happens if we stop and take a long look at each other?   Entities stop by my studio, pausing for a moment or two…  touching me….. on their way to some other state of …. Being …